THE VEPSIAN NEWSPAPER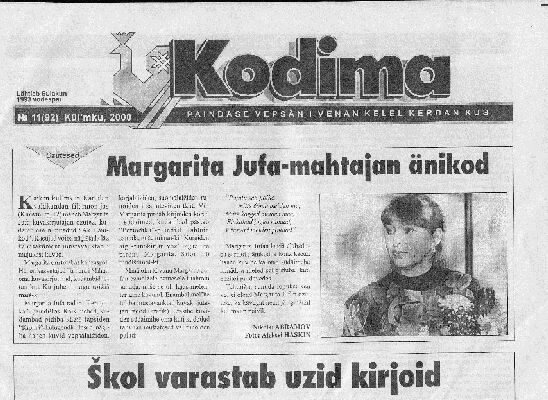 Our national monthly newspaper was founded in 1991 in Petrozavodsk (Petroskoi) by the Vepsian Cultural Society; its editor-in-chief is Nikolai Fomin (Among other remarcable persons on the stuff are Nina Zaitseva, distinguished veps linguist, and Nicolai Abramov, a poet writing in Vepsian.) «Kodima» is published not only in Vepsian, but also in Russian, because the elderly veps villagers in most cases do not understand Latin letters.
HERE we present the online version of "Kodima" (only articles in Vepsian!)
Some articles in Vepsian are regularly published in the following editions: journal «CARELIA» (Petrozavodsk) and a local Karelian children's magazine called «Kipina». Please note that «Carelia» also has it's own discussion forum.
"KODIMA"'s contact address:
185610 3, Titov str., Petrozavodsk, Republic of Karelia, Russia

Telephone: 7 (Russia) - 814 - 2782491

Mrs. Nina Zaitseva: 7 - 814 - 2513036,
e-mail: zaitseva@karelia.ru